Organic mountain herbs
Regular price

Sale price

$10.00

Unit price

$66.67

per

kg
A herbal mixture spicy and aromatic. The ingredients come from wild collection from the mountains of Croatia.
Ingredients:
Mountain Savory, Rosemary, Juniper Berries, Peppermint, Lavender, Speedwell, Yarrow, Ribwort, Eyebright, Cowslip
Details

In unserer Bio Bergkräuter-Gewürzmischung vereinen sich die kostbarsten Schätze der alpinen Flora zu einer harmonischen und geschmackvollen Komposition. Wir präsentieren Dir eine einzigartige Mischung aus seltenen Bergkräutern wie würziger Quendel, erfrischendes Löwenzahnblatt und aromatischer Dost.
Wir sind stolz darauf, nur die reinsten und sorgfältig ausgewählten Bergkräuter in unserer Mischung zu verwenden. Unsere Herstellungsmethode bewahrt die Frische und den ursprünglichen Charakter dieser Kräuter, ohne Kompromisse bei Qualität oder Geschmack einzugehen.
Die Bio Bergkräuter-Gewürzmischung von Bazar Manufaktur ist äußerst vielseitig und passt perfekt zu einer Vielzahl von Gerichten. Verleihe Salaten, Jogurt, Quark oder Eierspeisen eine einzigartige Note.
Ingredients
recipe suggestion
shares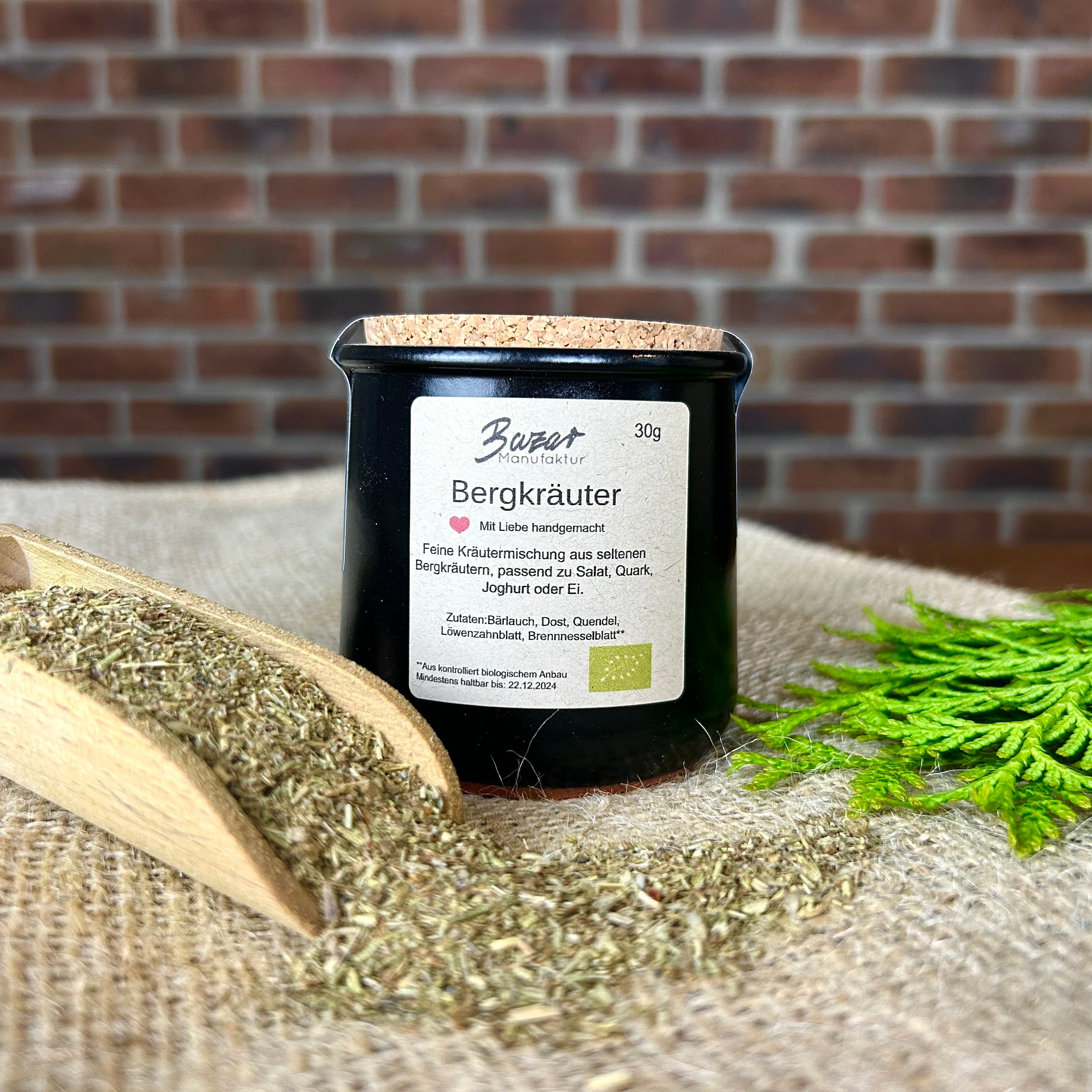 Bergkräuter? Bergkräuter!
Eine einzigartige, tolle Ergänzung für Dressings, Marinaden, Suppen und Saucen. Es ist schwer zu beschreiben, aber diese Mischung ist voll mit erfrischenden, überraschenden und gleichzeitig toll abgestimmten Elementen. Bin echt überrascht, wie gut sich dieses Gewürz in verschiedensten Anwendungen geschlagen hat. Definitiv etwas, um bekannte Gerichte noch einmal aus einer frischen Perspektive zu entdecken.